Jim's Open Source Software Pages
Free yourself from commercial software
---
G-scale model railroad cars for sale in San Diego
Since I have a Web site, I decided I might as well use it to sell my rolling stock. This page does not appear on the menu, because the site is really about free, open source software. If you'd like to learn how you can free yourself from the tyranny of Microsoft, Adobe, et al, by switching to free, open source software that works just as well, if not better, feel free to look around. Just remember that to get back here, you must enter www.jimgreene.com/trainsale.php.
I am selling three barely used LGB G-scale model railroad cars, a passenger car, a combination car, and a stock car, all with Santa Fe markings. I was given an LGB starter set with 10-inch-long cars, and these three 16-inch-long cars. I realized that the starter size is more in proportion to my small yard size, and I was lucky enough to find some additional out-of-production 10-inch cars, so the longer cars are available for purchase.
Santa Fe passenger car Topeka 33805 – $95

Santa Fe passenger car
Santa Fe combination car 33815 – $95

Santa Fe combination car
Santa Fe stock car 46680 – $95
This is labeled 46680 on the box, though the nummber on the car is 62175. I thought perhaps it was a packaging error, but I have found examples online that show the same package and car numbers that I have. I don't know what LGB was thinking, but it was apparently intentional.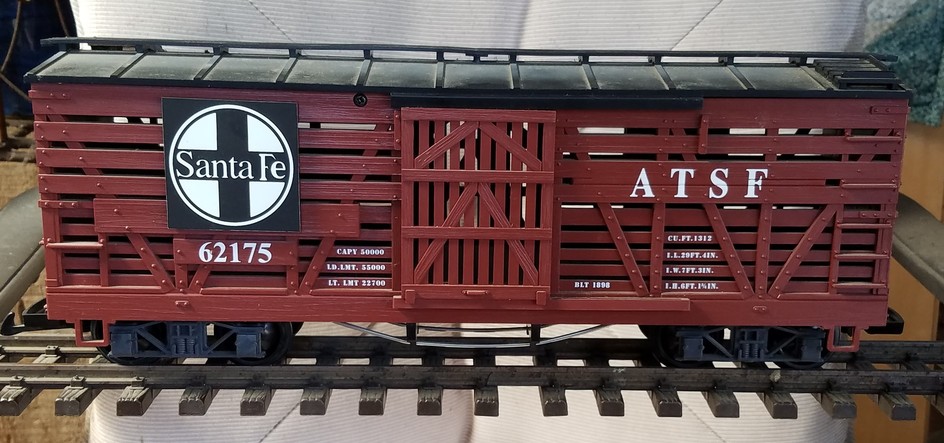 Santa Fe stock car
Please send questions or comments to jim@jimgreene.com